Land Development
Architerra is fluent in achieving municipal approvals for land planning projects including the areas of commercial, institutional, and residential development.
Our design efforts work in congruence with regulatory standards to facilitate project safety and encourage support throughout the conceptual and construction phases of land development. Architerra has also successfully secured zoning variances for projects that have required progressively creative solutions.
Architerra's projects incorporate environmentally sustainable stormwater management and landscape strategies that meet requirements for common topics such as impervious water runoff, street trees, "rain garden" infiltration basins, wetlands, and visual mitigation buffering. Our creative talent, tempered with our technical approach to affordable design, produces realistic results that regularly progress into the construction phase of project implementation.
---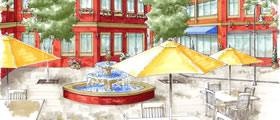 Worked with a major developer to provide special planning for a city block within an urban fabric; Provided mixed use development opportunities with retail space, office space, and residential apartments; Created an interior, outdoor courtyard feature ... read more
---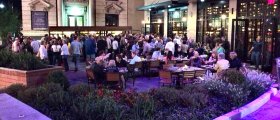 Urban land development project with new construction in the city center associated with anew athletic ice rink venue; Designed multi-level green roof planting strategy and off-street plaza, including urban planters ... read more
---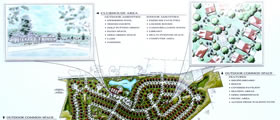 Provided multiple designs for high and medium density residential subdivision; Worked closely with developers to provide maximum number of units while maintaining an aesthetic and ecologically sound solution ... read more
---
Consulted on high school campus master planning and cost estimating for development including athletic enhancements, lighting, and parking expansion strategies; Completed a restroom feasibility study ... read more
---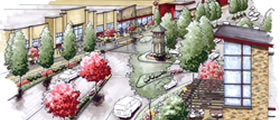 Collaborated on the design of this major retail development proposed and approved within a growing suburban community; Developed landscape strategies that met challenges including winter salting and utility corridors and easements ... read more
---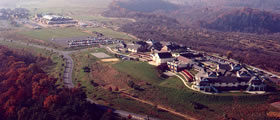 Provided campus planning for world headquarters; Developed master planning and signage strategies on multiple campuses; Consulted on conceptual development through construction implementation ... read more
---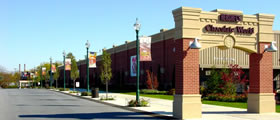 Engaged in landscape design and streetscape beatification at Chocolate World themed attraction; Designed threshold between parking lot and Chocolate World facility, which also leads to the main entrance of the theme park and Visitor's Center ... read more
---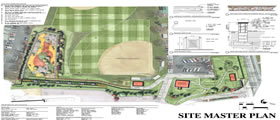 Designed regional stormwater management facility with a rain garden system, or infiltration garden, to manage existing stormwater and an anticipated increase of stormwater levels due to approved land development for an adjacent major retail center ... read more