Healthcare Campus
Architerra recognizes the care and attentiveness to detail needed to ensure a safe environment on healthcare campuses. Our landscape architecture services prioritize the well-being of visitors throughout design development and construction processes.
Architerra's site planning for health care facilities has involved the creation of gathering spaces, healing gardens, entrance enhancements, and campus buffering. Our designs have also incorporated green roof technology in managing stormwater while maximizing space utilization. LEED technology has also allowed our firm the opportunity to sustain the aesthetic built environment through ecologically sound practices.
As the healthcare industry rapidly progresses, Architerra remains innovative in creative problem solving strategies that reflect the individual values of each healthcare organization.
---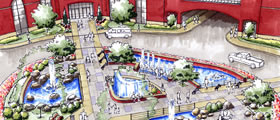 Designed the centralized plaza for the full-service medical, rehabilitation, and wellness health campus; Design included water features to offer soothing sounds of moving water that are enjoyed from the small private gathering areas ... read more
---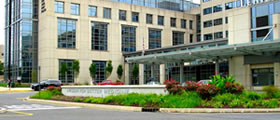 Enhanced main pedestrian main pedestrian entry of hospital and valet area; Provided branding opportunities with signage, slogan, and wall; Selected plant material that is salt tolerant for winter maintenance ... read more
---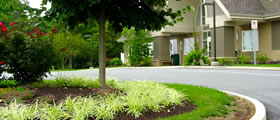 Designed landscape and outdoor spatial enhancements for families of hospital patients to enjoy while staying on campus at the Family Lodging Center; Landscape strategy concentrated on providing a comforting feeling ... read more
---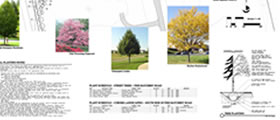 Developed landscape and street tree strategy; Focused on providing a vehicular entry progression onto campus through accent planting with seasonal transformation of color and aesthetic interest ... read more
---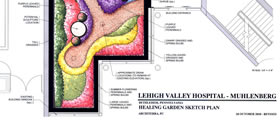 Designed green roof project at the entrance to emergency facilities area of the hospital; Maximized views into and out of the hospital as the green roof serves a purely visual purpose and is not publically accessible ... read more
---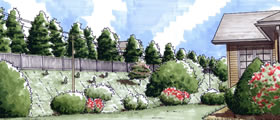 Assisted hospital with community relations through the design of a new vegetative buffer strategy; Hospital expansion necessitated greater visual mitigation; Specified sizeable 25' high evergreen trees ... read more
---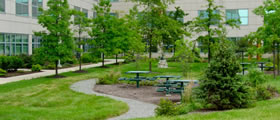 Augmented existing outdoor space with seating opportunities and a small meandering pedestrian trail; Specified seating elements and additional amenities within the outdoor gathering spaces ... read more
---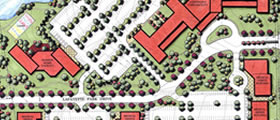 Developed a site plan for a proposed medical arts campus with continuing care, assisted living units, and office facilities.; Provided solutions for stormwater management ... read more