Education Campus
Educational site design balances school identity with functional efficiency and maintainable sustainability. Architerra creates cohesive experiences throughout campus spaces that are reliable in their ability to safely accommodate school activities. Architerra designs for all levels of education including elementary, secondary, and higher educational institutions, in both the public and private sector.
In crafting campus unity, Architerra offers full-scope landscape architecture services that adapt to the demands of each new institutional venture. Our master planning and feasibility studies have shaped campus-wide growth through informed future project phasing. Likewise, Architerra's technical skill in generating construction documents and project specifications has facilitated the construction implementation process in a quality-oriented, budget efficient manner.
Architerra's experience ranges from designing multi-decade master plans to campus wayfinding signage, garden beautification efforts, enhanced circulation, and landscape aesthetics.
---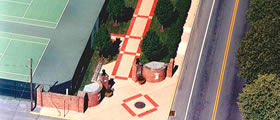 Offered consulting on more than thirty-five projects for design and implementation throughout the campus over an extended period of time; Developed numerous site designs and landscape solutions for individual buildings upon the campus ... read more
---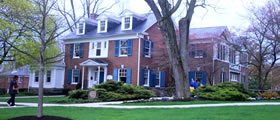 Offered consulting on more than thirty projects for design and implementation throughout the campus over an extended period of time; Conceived landscape enhancement of President Dwight D. Eisenhower House ... read more
---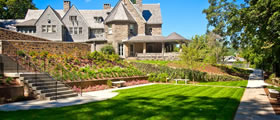 Offered consulting on multiple projects for design and construction throughout the campus; Worked within the historic fabric of the campus and threshold to the city of Easton; Conceived an interpretive restoration of the historic McKelvy House garden ... read more
---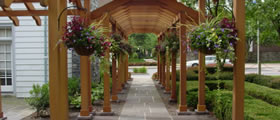 Offered design guidance on numerous projects throughout the campus; Redesigned a linear threshold arbor for the Peace Garden entrance; Enhanced the existing Peace Garden by strategically removing existing plants ... read more
---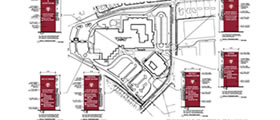 Provided conceptual designs, as well as, construction detailing and specifications for two high school campuses within the district; Completed major identification and wayfinding signage master planning through construction implementation ... read more
---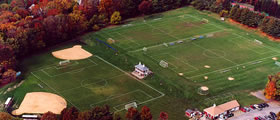 Offered consulting on numerous projects over the course of two decades, initiated by our campus master plan; Completed design development and construction documents for athletic fields complex and multi-purpose field ... read more
---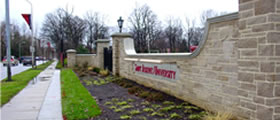 Joined design team, during the phase of the construction document development process in order to provide expertise in synthetic turf and general athletic facility design; Redesigned several pedestrian areas associated with the athletic field project ... read more
---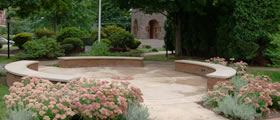 Assisted in shaping the campus through master planning and project phasing; Offered guidance on campus expansion feasibility; Designed several new pedestrian circulation paths and gathering spaces within different campus areas ... read more