Athletic Facility Design
Architerra designs multi-sport athletic facilities for all levels of competition for elementary, secondary, and National Collegiate Athletic Association (NCAA) institutions, as well as, recreation organizations and world class athletes. Architerra's experience in designing athletic facilities ranges from tennis court complexes to multi-sport, all-weather, natural grass surfaces to synthetic turf athletic fields and synthetic running track stadiums, and includes the National Football League (NFL).
Our designs focus on safety with an emphasis on aesthetic presentation, budgetary value, and long-term sustainability. We carefully review zoning regulations and remain current on sport standards to ensure compliance and safety on all projects. Projects encompass campus-wide master planning and feasibility studies, conceptual design development, detailed cost estimating, and construction documents and construction administration.
Our team works closely with athletic departments, facilities management, and school administration to understand their priorities in creating unique venues that functionally meet student athletes' and recreational competitors' needs while instilling pride throughout the community.
---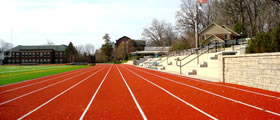 Completed design development through construction documents and observation for the stadium renovation including a new, multi-sport synthetic turf field and synthetic track; Developed strategy to accommodate a full six lane track ... read more
---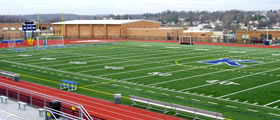 Completed the high school campus master plan; Master planning lead directly into construction of improvements to athletic stadium, baseball facility, tennis courts, natural grass field hockey field; later improvements included softball field and auxiliary complex ... read more
---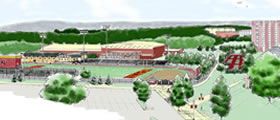 Provided master planning services for the athletic portion of the North Campus; Aided in the realignment of the men's and women's cross country course; Consulted on renovations to the outdoor stadium floor ... read more
---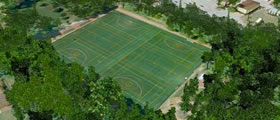 The Lawrenceville School is one of the oldest private preparatory schools in the Northeast, originally designed by Frederick Law Olmsted, the father of landscape architecture.; Provided design through construction observation services ... read more
---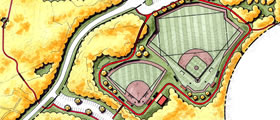 Converted an existing topographically challenging, wooded site, that was formerly used for mining activity, into a multi-sport athletic campus; Designed athletic campus to incorporate terraced athletic fields, including new baseball, softball, and soccer facilities ... read more
---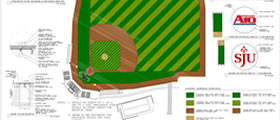 Joined design team, upon request, during the latter phase of the construction document development process in order to provide expertise in synthetic turf and general athletic facility design; Redesigned several pedestrian areas ... read more
---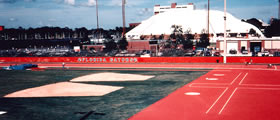 Spearheaded master plan rejuvenation of all outdoor athletic facilities, including track and field, football, baseball, tennis, and golf; Reorganized and redesigned the Gainesville campus encompassing over eighty acres of improvements ... read more
---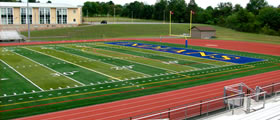 Provided design and construction guidance spanning master planning services to construction implementation of several new athletic facilities; Renovated stadium floor with a new multi-use synthetic turf athletic field ... read more
---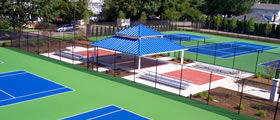 Assisted in shaping the athletic campus through master planning and project phasing; Devised concepts and construction documents for two major synthetic turf athletic facilities and a six-court tennis complex ... read more