Dryville Design Studio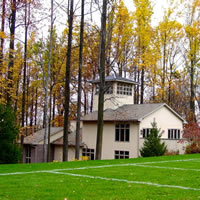 After roughly 1,200 projects, David Horn implemented a thirty year vision and elected to become his own client. In 2004, Architerra's Dryville Studio was created as a result. Situated in the forested foothills of South Mountain, Architerra's second home became a physical extension of our firm's fundamental principles. The Dryville Studio is an integration of indoor and outdoor spaces, where the built form is merely an extension of the surrounding environment. Here, a seven story form, layered horizontally into the forested hillside, appears as an angular boulder outcrop on a wooded slope. Our treetop office presents a panoramic vista of the region while literally elevating creative meetings to a whole new level. Externally, our Dryville site allows us to enrich our practice through actual implementation techniques in woodland management, forest understory landscape design, athletic field design and maintenance, and arboreal wetland sustainability.
Our Dryville Studio is a refuge where creative thinking can be shared with our clients; where living, working, and playing can all co-exist; and where we can demonstrate that, at Architerra, we practice what we preach.
We look forward to you joining us.